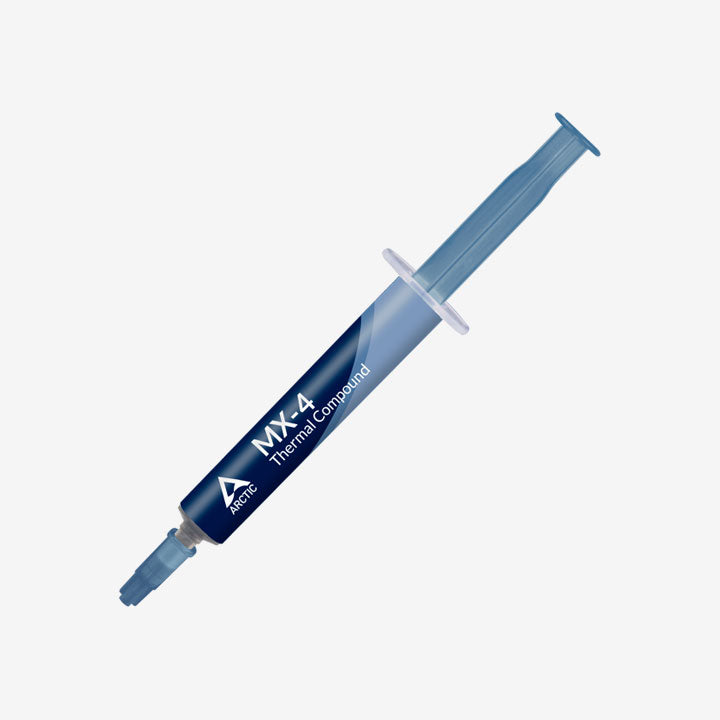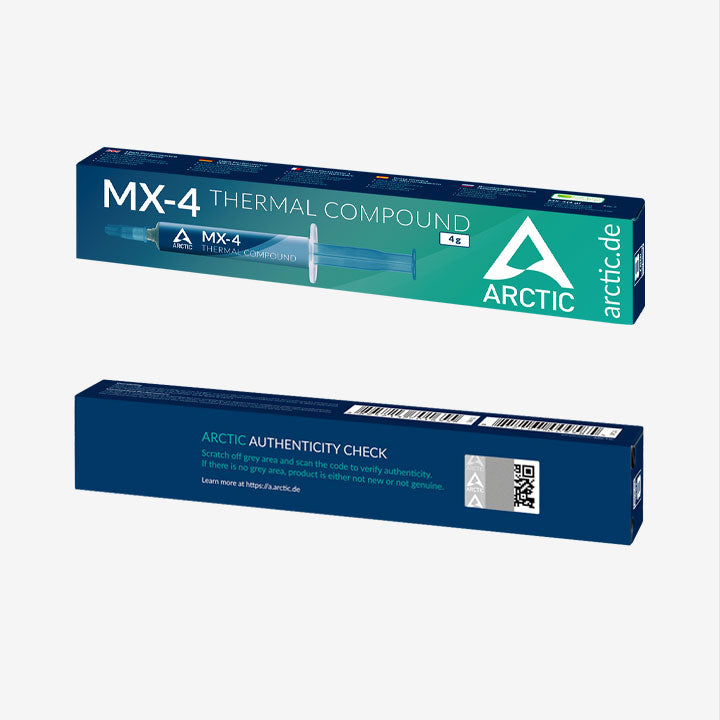 ARCTIC MX-4 High Performance Thermal Paste
Regular price
Rs.3,000.00
Sale price
Rs.3,000.00
Regular price
Estimated Courier Delivery:09 Dec - 13 Dec

Free Shipping: On all orders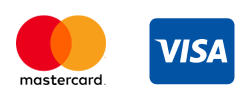 Secure checkout available for advance payments
Our thermal paste packaging design has undergone several changes, but the composition of our MX pastes has remained consistent, ensuring that they maintain a reputation for high quality. The carbon microparticles used in the ARCTIC MX-4 thermal paste enable excellent performance by ensuring extremely high thermal conductivity, which dissipates heat from the CPU/GPU quickly and efficiently.

Using MX-4 is safe because it is metal-free and non-electrically conductive, eliminating the risk of short circuits and providing more protection to the CPU and VGA cards.

To ensure authenticity, every single product can be verified through our Authenticity Check.

The MX-4 is very easy to use, thanks to its ideal consistency, which makes it accessible even for beginners.
Model

| | |
| --- | --- |
| Brand | ARCTIC COOLING |
| Series | MX-4 |
| Model | AC-MX4 |
Details
Volume / Net Weight
4.0g
Thermal Conductivity

 

8.5 W/mK
Specifications
Thermal Conductivity (W/mk): 8.5

Viscosity (poise): 870

Density (g/cm3): 2.5

Net Weight: 4g

The ARCTIC MX-4 thermal paste is a top-quality product that provides excellent performance and ease of use. This electrically non-conductive paste is applied between the CPU/GPU and designated coolers to transfer heat from the components to the heat sink.

Because the ARCTIC MX-4 is metal-free, it eliminates the risk of short circuits and provides additional protection for your computer. The new formula features optimal thermal conductivity and low thermal resistance, enabling effective dissipation of heat from the core components.

The consistency of the ARCTIC MX-4 is designed to simplify application, and it is thin enough to be spread onto components with fingers without making much of a mess.

Features
Features
Non-Capacitive

Non-Electricity-Conductive

Carbon-Micro particle Based Thermal Compound

Non-Curing

Non-Corrosive

Non-Bleeding

Excellent for CPU / GPU / Electronics / Lighting Cooling

Low Thermal Resistance / High Thermal Conductivity Dissipating Heat Efficiently

Will Not Short / Damage

Delicate Circuitry Like Silver / Metallic-Based Compound

High Viscosity

Easy-Application Syringe

Superb Durability

4g Syringe Retail Package
Additional Information

| | |
| --- | --- |
| Date First Available | March 12, 2019 |